Bronwyn Fraser – Saturday 11th March, 2017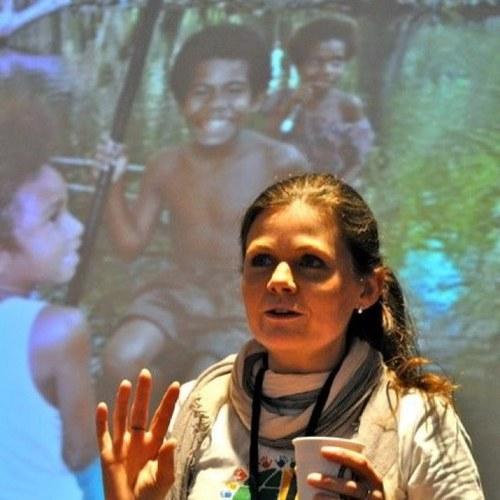 Bronwyn completed a Masters in International Development Studies in 2009 which included an internship working with refugee communities in India. And in late 2009 she joined the UnitingWorld team as the Development Education Officer, working with Uniting Church and School communities in building a greater understanding of poverty and inequality. (Source)
Bronwyn currently works alongside women and men across the Pacific who live in societies with challenging systems of inequality. She is passionate about equality and helps to provide opportunities for women to thrive.
---
CBE Australia National Conference 2017 'Better Together'.
Click here to listen to the great talks and workshops at the CBE National Conference, held in Melbourne.
---
Did you miss our recent event with the wonderful Tania Harris? Or, would you like to hear her message again? Tania's message on singleness was videoed and posted on the CBE International YouTube channel. And here it is too.
Tania's ministry is called God Conversations and her website is here.
---
Deborah's Choice for June 2015 – Jacqui Grey
Deborah's Choice for October 2014 – Jenni Stoddard
Deborah's Choice for April 2014 – Margaret Wesley
Here is a talk by Jacqui Grey on Esther
---
Brunch with Rev Dr Karina Kreminski
Saturday morning, the 19th of September 2015
Our guest speaker for our next brunch will be Rev Dr Karina Kreminski. Karina's message is entitled, Gender, Being Missional, and the Kingdom of God.
Karina has a doctorate from Regent University in the area of missional church formation, and she is Lecturer in Missional Studies at Morling College in Sydney. Karina was ordained as a Baptist minister in 2002 and has been pastoring for the past 13 years. She was the senior pastor of her church in Cherrybrook for 8 years, but is now looking forward to planting a church in the inner city. Karina teaches, preaches, and loves to mentor emerging leaders. She blogs here, and occasionally writes for Missio Alliance here.
Update: Karina's message can be heard here.
---
Daniel Kirk's Messages
CBE hosted Daniel Kirk this year for a mini-conference entitled God's Gift of Freedom. Here is the audio for his talks.


Talk 1: Christ: The Free Man Who Creates a Free People
Talk 2: Cross: The Surprising Shape of Freedom
Talk 3: Love: The Freedom of the People of the Cross
---
---
BRUNCH with Margaret Mowczko
Saturday Morning, the 28th of June 2014
Topic: The Consensus and Context of 1 Timothy 2:12
Update: Margaret's message was recorded on the 21st of March 2015. Here is the audio.
This message can also be read (along with some of the images used during the talk) online here.
---
BRUNCH with Dr Chris Forbes
Saturday Morning, 19th of October 2013
Dr Forbes is senior lecturer in Ancient History at Macquarie University, and deputy chairman of the Society for the Study of Early Christianity.  He is a member of the Society for Biblical Literature, and a member of the Tyndale Fellowship for Biblical and Theological Research.
Dr Forbes' areas of expertise includes New Testament history and the intersection of early Christianity and Graeco-Roman culture. He is currently researching the relationship between religion and philosophy in Graeco-Roman thought.   More information, here.
Topic: Privatised Spirituality and Professionalised Leadership: An Unhealthy Mix?
The audio of Chris' message can be heard here:
---
---
BRUNCH with Dr Jacqueline Gray
Saturday morning, 16th of March 2013
We are pleased to announce that Dr Jacqueline Grey will be
our first guest speaker for 2013.  Jacqui is the Academic Dean of Alphacrucis College and lectures in Old Testament studies.  She has published several books and articles, including Them, Us & Me: How the Old Testament Speaks to People Today (APS, 2008), Raising Women Leaders (co-edited with Shane Clifton) (APS, 2009), Three's A Crowd: Pentecostalism, Hermeneutics and the Old Testament (Pickwick, 2011).  More information about Jacqui here.
Topic: Raising and Sustaining Women Leaders